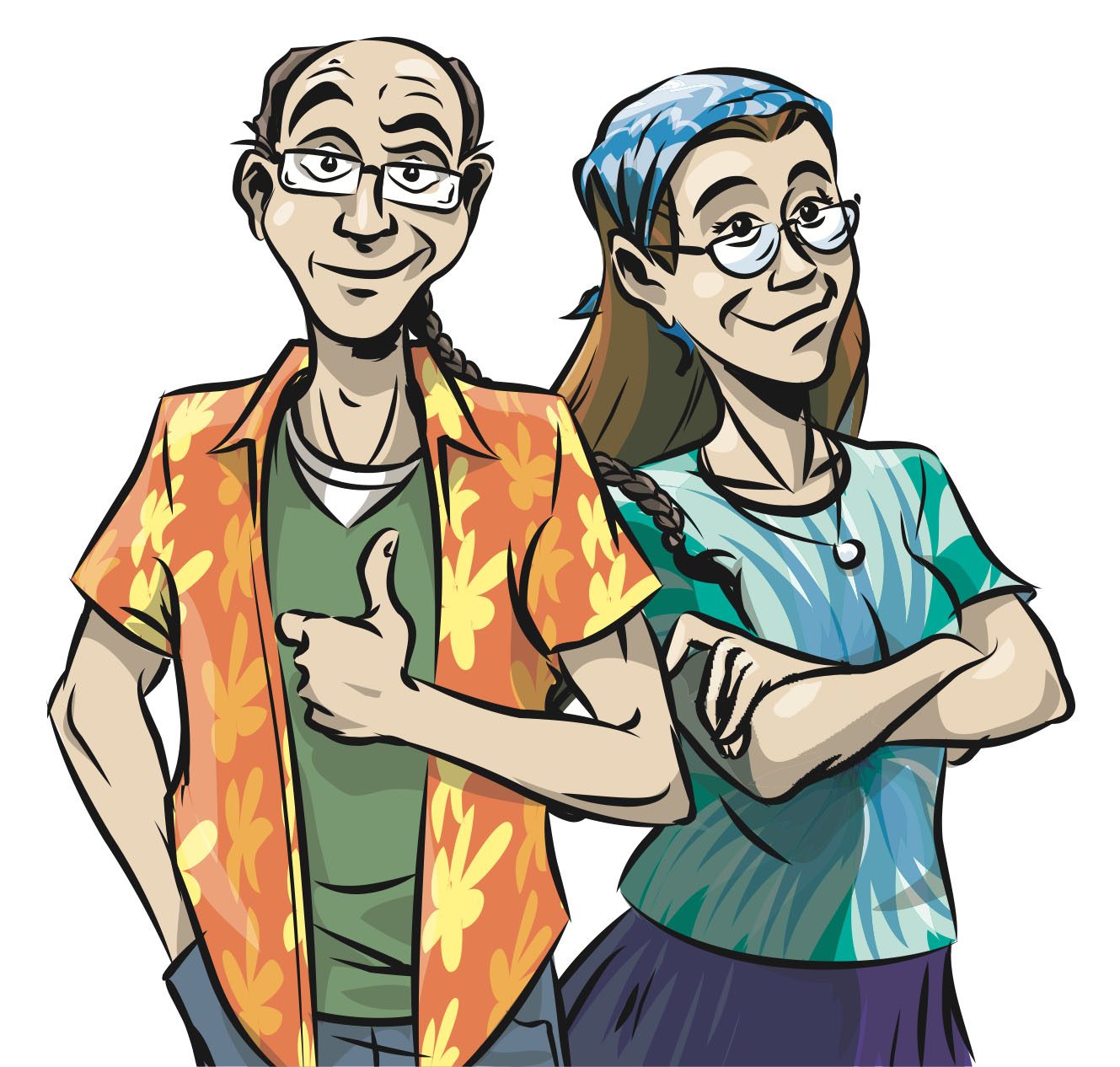 Kristin & Andrew Looney
Founders of Looney Labs
Kristin and Andy met while they both worked at NASA, as an Electronics Engineer and Programmer, respectively. They quickly hit it off, and, among their many wacky side projects was a part-time game business. By 1999, they had both "jumped off the cliff," quitting their day jobs to devote themselves to Looney Labs full-time – Kristin as President, and Andy as Chief Creative Officer. Best known as the inventor of Fluxx, Andy is also the designer of such games as Chrononauts, Aquarius, IceDice, and numerous games for Looney Pyramids, which he originally created in 1987. Andy is also a writer, a photographer, a cartoonist, a blogger, a hippie, a trekkie, and a geek. While Andy supplies the creative spark, Kristin has built Looney Labs into the successful game company it is today, largely through her business and marketing savvy, but also her amazing rapport with the ever-growing community of Looney Labs fans, a.k.a. "Looney Labs Game Technicians." Kristin's earliest claim to fame came at age 16 when she solved a Rubik's Cube in 35.50 seconds on That's Incredible, and her enthusiasm for puzzles and games is still going strong.
Brianna Wu
Brianna Wu is head of development at Giant Spacekat, a prominent game development team in the industry with female leadership. She is also a well-known public speaker on issues affecting women in technical fields.
Working in the game industry, Wu found herself frequently frustrated by what she described as the "boys club" mentality in games, which was much worse than any of the other industries she'd worked in. This frustration was reflected in the tone of her studio's first game "Revolution 60," which featured an all-female cast of special operatives.
Over the course of shipping Revolution 60, Wu found herself speaking more and more on what women were experiencing in the game industry. In 2013 she wrote a critically acclaimed piece called, "Choose your Character," for 'The Magazine' outlining the culture of her studio and how she'd changed over the course of leading the company. She also wrote, "No Skin Thick Enough," for Polygon, a piece about the daily harassment of women in the game development industry.
In 2014 Wu also launched "Isometric," a games podcast with a majority of women voicing their perspective. This was quickly picked up by the prominent 5by5 network and quickly became one of the most listened-to podcasts in games. She also hosts Rocket on Relay.FM.
Amanda Beth Winn Lee
Amanda Winn-Lee is an American voice actress, writer, and ADR director who is an anime & game voice legend. She was the voice of Crimson 09 in Revolution 60 by Giant Spacecat Productions, Yukiko Amagi in Persona 4, Mimiru in .hack//SIGN, Rally Vincent in Gunsmith Cats, Yohko Mano in Devil Hunter Yohko, Momiji Kushinada in Blue Seed, and was featured most notably as Rei Ayanami of Neon Genesis Evangelion, and MANY MORE! Aside from voice work she quite often handles production, ADR direction, and the scripting of various projects for her dubbing company Gaijin Productions, LLC.